LED Motion Sensor Waterproof 270 Wide Angle Solar Powered Security Wireless Wall Lights with Flame LED Bulb for Garage,Patio,Garden,Driveway,Backyard
Can not find your key to the house in the dark? Afraid to go out or throw rubbish at night? Worry about your pets feel lonely in dark yard? CRUBON Motion sensor solar lights can solve all of these problems for you.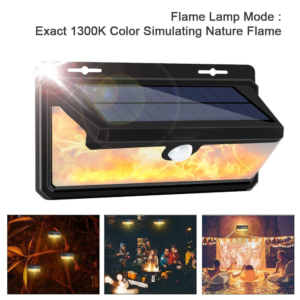 【158 LED&270° Illumination Range】CRUBON outdoor motion sensor solar lights equipped with 158 upgraded dense high powered LED and newest energy management chip,provides excellent illumination with maximum 1500 lumens, wide lighting range can be increased to 270°.
【3 Modes Solar Lights】Flame lamp motion sensor mode, light off motion sensor mode, flame lamp mode. Bright white LED bulb support sensitive motion sensor mode, warm yellow LED bulb support unique flame lamp mode, simulates nature flickered flame. Two light colors switch freely, cope with different usage scenarios.
【4500 mAh Battery&Weather-resistant Construction】Large battery capacity of 4500 mAh stores more solar energy from sun to ensure long working time. Professional over-charging protection device prolong the battery life. Plastic-reinforced ABS border and lampshade works well in all weather.
【Eco-Friendly&Wireless】Auto off and recharging with solar in the day, auto on and lighting at night. Energy saving and no complicated wires, provides convenience to dark night safely.
【Large Size Matte Texture Panel& Lampshade】3 x 6.3 x 3.9 inches large solar panel absorbs more solar energy. Matte Texture Lampshade effectively reduces direct glare damage to the eyes,make the light more soft through the homogeneous diffusion compares to normal transparent lampshade.
Tips
Please make sure the light be fully charged under directly sunlight in 1-2 days when you received the new product.
Because of the decrease in daytime and sunlight intensity, the work-time of the light will be reduced. Please regularly clean the solar panel.
Easy Installation
1.Choose a site where there has sufficient sunshine in day, but dark at night.
2. Nail two screws on the wall.
3.Press 5 seconds to turn on the circuitry, turn to functional mode.
4. Fix the solar light with screws into the wall.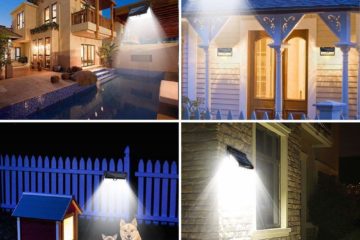 Functional Mode
Press the button to switch a different functional model.(Please cover the solar panel when set the mode, otherwise the set up is invalid. Blinks once: Flame lamp mode,with a slightly light after dark, will turn to high light when some come,and turn to the flame lamp mode after someone leave. Blink twice:Light off mode, turn off after dark, but become bright when people come, 30 seconds will turn off when leave. Blink third: flame lamp mode, a glimmer after the dark.